As you may have heard the Winnepeg Jets have traded Evander Kane in a 7 player deal with the Buffalo Sabres. The Jets received defenseman Tyler Myers and forwards Drew Stafford and Joel Armia. The Jets also received the rights to 2014 second round pick  and Buffalo's latest first-round pick in 2015.  In addition to Evander Kane the Sabers received defenseman Zach Bogosian and college goaltender Jason Kasdorf. The Buffalo Sabres are in last place and it was expected that they would begin the rebuilding process and look to next year to get back on the winning track.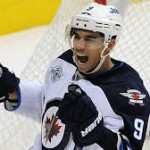 Evander Kane has had recent issues in his last playing days with the Jets.  Paul Maurice made him a healthy scratch against the Vancouver Canucks due to a dress code violation for wearing sweats instead of a suit for a midday team meeting as reported by Gary Lawless of the Winnipeg Free Press.  The rumor is a former Stanley Cup winner threw  his sweats in the showers. This was his second healthy scratch of the season. The final nail in the coffin was his decision to have shoulder surgery which will put him out for the rest of the season.
It is disappointing to see Evander Kane traded as this team has had a strong season and dominated Stanley Cup favorite Blackhawks 3 times this year.  He was a 1st round pick and 4th overall for the Atlanta Thrashers(The NHL better not give Atlanta another shot at an NHL team – remember the Flames?). His best year with the Thrashers/Jets was in 2011-12 season with 30 goals and 27 assists and a +12 rating.
Patrick Kane had his issues with partying too much but the Hawks one the Cup in 2010; however, they lost in the 1st round of the playoffs the next 2 years and Kane's bad habits off the ice became more of a serious issue. Kane came back strong in the strike shortened season of 2013 as he played in the Swiss league in the 2012-13 during the strike and his mother stayed with him on the trip which also helped him stay focused. He ended up winning the Stanly Cup again in 2013 and won the Conn Smythe trophy for MVP of the playoffs.  Patrick Kane talked about his past with regards to the Evander Kane trade: "Everyone kind of has their own maturation process, and you go through some bumps in the road, that's for sure," Patrick said following the Evander trade, per the Chicago Sun-Times. "Everyone has a different path, that's for sure. I was lucky enough when I was going through my bumps, that the Blackhawks stuck with me and gave me another chance. I wouldn't rather be anywhere else, so I'm very fortunate for that."
This trade may be a breath of fresh air for Evander Kane but you just wonder what might have been if he stayed with the Jets.