Last night(November 28) in Los Angeles Patrick Kane broke the U.S. born player consecutive point streak record of 18 games. He broke the previous record held by Eddie Olcyzk and Phil Kessel. The most recent streak was accomplished by Phil Kessel as a Boston Bruin in 2008. Patrick Kane achieved the record early against the Kings when he scored a power play goal with a wrist shot top-shelf at the 11:10 mark of the first period with a push pass by Duncan Keith. The streak almost ended in Anaheim the night before against the Ducks but Kane assisted on Duncan Keith's goal with 27 seconds left in the game and the extra attacker to tie the game and the Blackhawks would win in overtime. Unfortunately for the Hawks their fortunes were reversed as the Hawks lost a 2 goal lead heading into the third but the Kings came back and won in overtime with a breakaway goal by Gaborik. Of course with 3 on 3 overtime there is at least 2 of these per session!
So does Patrick Kane hold the Blackhawks consecutive point streak record? No, Bobby Hull holds the record at 21 consecutive games during the 1971-1972 season. Kane will need a point in the next three games to break the record. The Hawks play the Wild next at home followed by the Senators on the road and back home against the Jets. All three teams rank in the bottom 10 in GAA(goals against average) with the Jets at near bottom with over 3 GAA. Considering he was able to break the record on the last game of a 6 game road trip is a mark of a great player. He has been helped with the incredible play of Artemi Panarin who leads all rookies with 23 points. He will be in discussion for the Calder Memorial Trophy for the rookie of the year honors.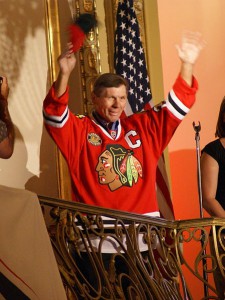 The all time consecutive game streak is held by the Great One. I know it is not a surprise that Wayne Gretzky holds the consecutive game streak which is a ridiculous 51 straight games during the 1983-84 season and he averaged 3 points per game during this streak with 61 goals and 92 assists! Mario Lemieux is second with a 46 point streak. In this day and age I don't see anyone reaching 30 games let alone 40 but we will see. Kane is a great passer but he is scoring more goals as he is shooting the puck more which has helped to continue the point streak. It would be great to see him break the Blackhawks record and it is a good story for the NHL and will continue to gain coverage as the streak continues. Keeping my sticks crossed…
p.s. Yes, I know the picture is not ofBobby Hull.