So when do Blackhawk's tickets go on sale?  Well, tickets went on sale 8/18 which means you are probably not going to be able to find a single game with 2 tickets available together except maybe the 300 level. Why don't we take a closer look at a recent history of tickets sales as well as the valuation of the Blackhawk's organization.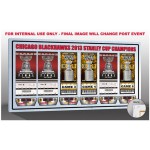 Forbes has ranked the Blackhawks as the #5 team on overall valuation which includes franchise's value attributable to revenue shared among all teams, city and market size, arena and brand. The team value was $625 million based on November 2013 figures for the strike-shortened 2013-13 season. The gate receipts were $51 million so it is fair to say this will be over $105 million on a normal full year season. The average ticket price is $63 which was the 8th highest in the league and the seating capacity is 19,717.
Season ticket prices were raised by 8% for the 2014-15 from last years prices. There is a discount for season ticket prices which range from 25 for tickets on the glass to 49% for 300 level Tier 3 seats. There have been 223 straight regular season sellouts for the last 7 years and the the average attendance was 22,623 last season. Ten years ago the average attendance was only 13,253. The attendance dropped to 12,727 in the 2006-07 season which was was the first time they were below 13,000 since the 1981-82 season. Unfortunately, the current Blackhawk fans are considered bandwagoners as other original six teams have been able to sellout or have near sellouts when their team has done poorly. It will be another 10 years before the Hawks are not a playoff contender and then we will see if the fans continue to come to the games.