It is Dec. 7th and the NHL Central Division has a new division leader and it is the Chicago Blackhawks. The Blackhawks are the hottest team in the NHL with a 6 game winning streak with the most recent win against the previous division leading Nashville Predators. The Blackhawks were 5-1 on the roadtrip defeating last years champion Avalanche and Stanley Cup champion Kings. The Hawks were able to exact revenge against the Kings who defeated them in the Western Conference Final with a dominating 4-1 win. The annual Circus Road trip occurs every year as the Ringling Bros. and Barnum & Bailey Circus come into town in November. The Hawks were 6-1 last year and it appears to be the time when the Hawks jump start their season and are comfortable with their new players. Brad Richards struggled early in the season to find his comfort zone but now has 18 points(6 G, 12 A) and is gelling well on the second line with Patrick Kane and Kris Versteeg.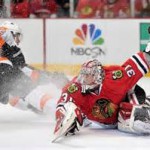 The Blackhawks outscored their opponents 23-12 on this road trip. The Hawks are know for their puck possession play and are usually outhit in every game which has resulted in leading the league with 109 power play opportunities. The Hawks are also number 1 in the league in penalty killing at 91% and have only given up 7 power play goals. The Hawks have an issue of an overabundance of talent. They had have used 3 goalies in the last 4 games and one all of those games. Raanta won back to back games against rival Blues and the East leading Canadiens. He was able win both games while facing over 40 shots in each game. Darling won most recently against the tough Predators. The Hawks will finaly get back Patrick sharp and will look to improve on their lead in the NHL Central Division.
Please leave your comments as I look forward to hearing from you.
Visit TJ's profile on Pinterest.