The Blackhawks have signed Patrick Kane and Johnathan Toewes to 7 year extensions at $10.5 million a year. The Blackhawks are fortunate that they have the same agent and they wanted to stay in Chicago because they have won 2 Stanley Cups and believe management will continue to make the appropriate changes to the team to make them a Stanley Cap favorite every year.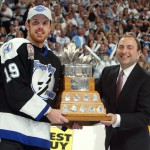 GM Stan Bowman was able to sign Brad Richards from the NY Rangers. This will provide depth at center as Brad Richards would probably be the second line center and Andrew Shaw will be moved to the third line. Yes that is him in the picture back in 2004 with the Lightning when he won the Conn Smythe trophy. Will the Finnish phenom be on the Hawks fourth line or will Peter Regin be in this slot since he resigned for 1 year with the Hawks.
The bigger issue is the salary cap as the Hawks are still $1.3 million over the salary cap and will need to trade one of their players with a comparable salary. There was talk that Sharp could be dealt but his agent was adamant that Sharp will remain a Hawk. I anticipate either Johnny Oduya at $3.375 million or Michal Rozsival at $2.2 million will be traded. I would anticipate Rozsival would be traded because he seemed to lack speed in the playoffs. I know fans were not happy with Seabrook's ply in the playoffs and he was also suspended for 3 games and the Hawks were 3-0 with Brookbank as his replacement. Stan Bowman continues to push the right buttons so it will interesting to see his final moves before the start of the season.