Johnathan Toews became a 3 time Stanely Cup Champion this summer and he is now in elite company. He is known as Captain Serious and his leadership was proven vital once again this year. There was the death of their trainer, Clint Reif, who died of an apparent suicide. They also dealt with the death of former Blackhawk, Steven Montador, who had extensive CTE throughout his brain. There was the regular season ending injury to Patrick Kane and of course the off the ice rumors which I will leave to TMZ. Johnathan Toews was able to truly show his leadership skills during the toughest season in Blackhawk history.
Toews started his career in the 2007-08 season and became the Captain of the Blackhawks the following season at the age of 20! He became the 3rd youngest captain in NHL history. He has won the gold medal for Team Canada in 2010 and again 2014. He brought home the Stanley Cup to Chicago in 2010 which ended a 49 year drought for the Blackhawks. He also won the Conn Smythe Trophy for the most valuable player of the playoffs. He had 29 points during the 2010 playoffs which is his highest total all time in the playoffs. His second highest total was during the 2015 Stanley Cup Champion run when he had 21 points. He also had 5 goals in the final 3 games of the playoffs which included the amazing 2 goals in the final 2 minutes of Game 5 of the Conference Finals with the pulled goalie and the first 2 goals of Game 7 to lead the Hawks to the Western Conference Championship.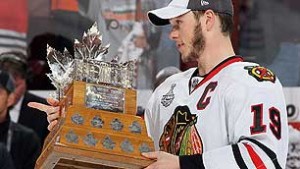 Johnathan Toews was selected for the Mark Messier Leadership Award which is selected by Mark Messier based on the contributions on the ice and off the ice with the community. He will go down as one of the greatest captains of all time,but at age 27 I have a feeling he will add more awards to his trophy room. As each member of the 2015 Stanley Cup Champion gets his day with the Cup, #19 decided to knock on doors in his home town in Winnipeg and play a pick up game with the kids.